Rent A Double 3 Robot – Telepresence Device with Assisted Navigation
Have you seen some of our fleet's recent rentals?
Can't travel? Need to be at a meeting or trade show across town or across the country? Family member getting married and you can't travel right now? We have a way for you to be present and an active participant in that event. No asking people to pass the phone or tablet so you can visit with everyone, just drive yourself around where and when you want.
We now have available Double 3 devices – with Pan-Tilt-Zoom cameras, click to drive, obstacle avoidance mode and 13 Megapixel camera.
Looking for our Double 2 devices, which are iPad based, have a bluetooth audio option, 6 hour battery life and can use captive portal wifi network (guest networks with an "accept terms" type of page) – click here to go to our Double 2 rental page

Our "Double" rental solution allows you to have a complete ready-to-go kit at any location around the country within 48 hours – no costs or waiting to acquire the robot, purchase the travel cases, train someone on how to manage it and no need to pay to store it somewhere – we have everything ready to go.
By renting a Double Robotics Robot at your next personal or corporate event, you can have someone from a remote location drive through the venue, engaging with attendees other and create a lasting memory for how you are able to ensure people can be where you want them without having to travel anywhere.
Since 2012 our robots have been all over the country – attending hundreds of weddings, reunions, trade shows, corporate recruiting events, technology demos, museum openings, a science competition at a leading university and being at hospitals and nursing homes during COVID-19 restrictions.
We can provide complete turn-key solutions as well, from on-site staff to drive and monitor the robot (you supply the speaker / talent / content expert) to renting the driver equipment needed. Let us know what you need and we're happy to provide options and pricing.
Typically it takes less than 10 minutes to assemble the robot and 5-10 minutes for someone to get the hang of driving it. To operate the Double Robotics Robot, all you need is a wi-fi connection for the robot, and a desktop computer running Google's Chrome browser and you are ready to go.
Features
Unlimited Minutes
Motorized height control
End-to-end Encryption
Drive from Chrome and Firefox on Mac/PC
Photo Capture
15MP / Pan-Tilt-Zoom Camera
Always-On Floor View
Visitor Pass
Screen Sharing (Chrome to robot's screen)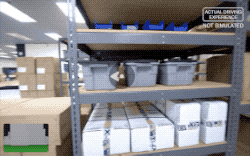 All our rentals include our full robot kit
Base Robot & Double 3 Head Unit
Robot drive-in charging dock (drive in and out and charge the robot)
Ruggedized Shipping Container with wheels (no trying to carry a 50 lb box using a handle)
Step by step instructions
Marketing Options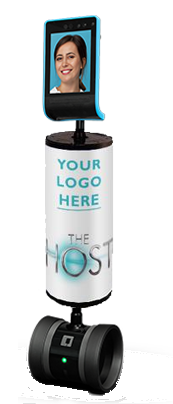 Want to dress up your robot and make it a rolling billboard for your event or company? We have just the solution! The piece is attached to 2 lighting units which back-light the marketing piece. We've can provide custom printed materials or we can provide the specs for you to print them.. We have created them with logos or with conference badges, etc. We can supply photoshop files for your team to create or do designs for you. Pricing for the printed piece is $175 each and $50 for the lighting kits and consumables. Design services start at $75 for simple layouts.
Rental Options
*** we typically book 4-6 weeks in advance of rental dates – please reserve your robots early *** We have 3 rental options – daily, weekly and weekend rentals. Your rental starts when the robot arrives.
Daily $375 is designed for in and out type of events. Robot arrives the day before your event and you ship it back the day after your event. UPS Ground delivers Monday – Friday.
Weekly $825 Need it for a few days of meetings or a trade show booth? Take the weekly option
Weekend $559 This is for those weekend events – weddings, reunions, family gatherings. Our robots have been there for dozens of weddings when someone can't travel from overseas. Robot Arrives on Friday and can be used Saturday & Sunday, return is on Monday.
Military Family Are you a an active duty, reserve or retired military family wanting to connect with your service member? Contact us – we have a special program designed to thank you and/or your family member for their service.
** There is a $100 cancellation fee if you cancel less than 7 days before your SHIPMENT date **
Shipping
We ship via UPS Ground from Atlanta (we can only SHIP robots – there are no pickups of robots allowed). If you need faster shipping – call us and we can help. The rental kit can be shipped via overnight and 2 day air as well. Note: At this time – shipping is available to the United States lower 48 states & most of Canada (with restrictions listed below).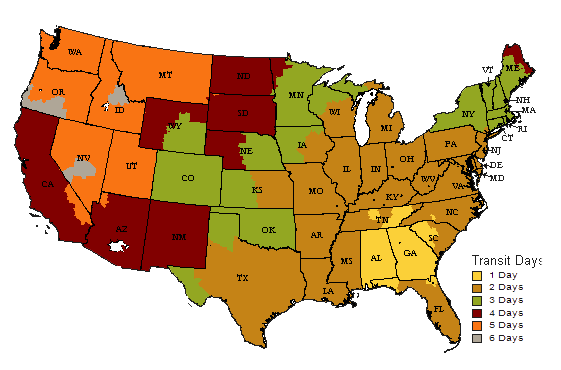 Approx Shipping Costs to COMMERCIAL ADDRESSES (each way via ground – residential delivery is higher)
$79 – Chicago, Detroit
$90 – Kansas City, New York City, Houston
$135 – Las Vegas
$140 – San Francisco
$140 – Seattle
2 Day and Overnight shipping is SIGNIFICANTLY higher than ground shipping (see UPS shipping transit time on this page).
Canadian Shipping
Due to shipping time, customs fees and duties,we have had to place the following restrictions on Canadian shipping.
– you must be a commercial or government entity with offices in Canada (or working with one of those types of organizations)
– the minimum rental duration for Canada is 1 week (e.g. no daily rentals)
– We must be supplied a CBSA Letter of Recognition for your event, or additional customs fees and duties will apply (CBSA Letter Details)
– shipping costs will be determined when you contact us
** Please Note ** – An Additional UPS pass-through charge of $50 is added to every rental. This is due to the size of the robot and is assessed by UPS. They classify this charge as a "special handling" fee. If you are delivering to a residential address there is an additional cost from UPS. If you need a UPS pickup at the end of your rental, we are happy to arrange for it – there is a $19 pickup charge per location. One other thing – if you are delivering this to a Hotel or a conference center, many of those facilities charge a pickup and delivery fee which is independent of any shipping costs – this is charged by the Hotel and not UPS.
Our rental fleet has also been featured on
Want to see the Double 3 in action?
Watch the following videos to learn about the features and operational capabilities of the Double 3.
Ready to Rent?
Fill out the form below or call us at 770-765-8200 and we'll get you all the information you need. (if you are a gmail user, make sure you check your spam folder for our response – we typically respond the same business day).